Sitting down with a pencil and paper can work wonders for your wellbeing

When you're a kid, drawing almost comes as second nature – give a child a pencil and they can quite happily sit for hours. But for many of us this tends to slide away as we get older, usually because we begin to believe there's somehow a 'right' way to draw, or that we're just not talented enough.
But we think it's time we all sat down to rediscover this lost skill because, as well as being fun, it has several unexpected health benefits too. With more of us picking up the pencils again thanks to the colouring-in craze, this is why we think you should give doodling a go too…
1. It improves your memory
Research has shown that doodlers may take in more information than if they were simply listening to something. In a 2009 study published in Applied Cognitive Psychology, people who were encouraged to doodle while listening to a list of people's names being read were able to remember 29% more of the information during a surprise quiz later.
2. It will help you de-stress
The rhythmic, repetitive movement of drawing helps calm the mind. 'It's similar to mindfulness and meditation, yet it's more tangible and visual,' explains art psychotherapist Karin Angstrom. 'Sitting down to meditate can be quite daunting, but drawing and doodling takes that pressure off. It calms the mind and helps us deal with the overwhelming world we live in.' Karin believes just 10 minutes a day is enough to see really positive effects.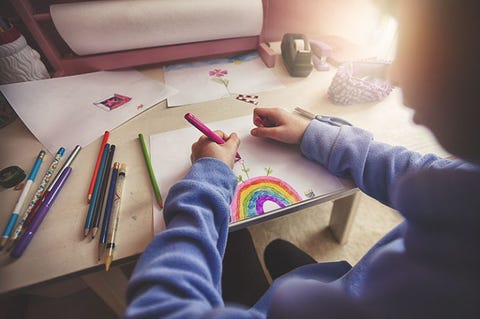 3. It strengthens your creativity
Free-range drawing makes use of your imagination and encourages the mind to wander. 'I believe we're all inherently creative beings, but because we're so constantly wired we can lose that natural instinct,' Karin tells us. 'Once you practice and achieve that stillness of the mind, drawing will help you reconnect with your creativity – which will help you in all areas of your life.'
4. It helps with problem-solving
Drawing can help our brains understand that there are multiple solutions to a single problem. 'It facilitates creativity, which problem-solving is a part of,' agrees Karin. If you're a bit overwhelmed by the sight of a blank page or don't really know what to start with, she recommends making a mandala pattern with a few different coloured pencils – start in the middle then work your way outwards.
5. It can help you understand yourself
'Drawing and creativity in general help put you in contact with your inner self,' says Karin. 'It acts as a channel to your unconscious.' She explains that, if you do a bit every day, you'll be able to look back on it as diary: 'Visuals can be much more telling than words,' she explains. And a bonus point of understanding yourself better? Increased empathy. 'If you become more in touch with yourself then you can become more in touch with other people,' she concludes
https://www.prima.co.uk/diet-and-health/healthy-living/news/a35929/5-surprising-benefits-of-drawing/