What's the king of the note-taking apps?
There are two leading contenders for the crown: Microsoft's OneNote and the independent Evernote. Launched in 2003, OneNote was added to Microsoft Office in 2007 and is now bundled with Windows 10 and also offered for free as a standalone product. Evernote launched in 2008 and has enjoyed steadily increasing user numbers since then; the company now says it has 225 million users worldwide. (Microsoft hasn't released user numbers for OneNote, but between Office and Windows 10, more than a billion users likely have a version of it installed on their machines.)
OneNote and Evernote are available for all the major desktop and mobile OSes, they can each sync your notes to all of your devices and the web, and both promise to be the only note-taking app you need. But they also have some very distinct differences. So which is better for business users?
I'm a longtime user of both applications, so I've taken a look at the latest version of each for Windows, macOS, iPad, iPhone and Android. This isn't a deep-dive review, but rather a personal look at what I like and don't much like about each — and the main points of difference between the two. I spend more time on the Windows version of each, but I'll note similarities and differences in other versions as well.
Note that there are two versions of OneNote for Windows: a desktop app and a Windows 10 app, also known as a Universal Windows Platform (UWP) app. As I write this, the desktop version, although available for free as a separate download, is not included with Office 2019 or Office 365. That's because Microsoft had planned to kill the desktop app and focus instead on the UWP app. However, the company changed course in late 2019, announcing that it will continue to add new features to desktop version of OneNote and that the desktop version will once again be included with Office 365 as of March 2020. In this review, I look at the desktop version of OneNote, because the UWP app has far fewer features.
OneNote: A great way to get organized
OneNote is very much a full-blown application. It lets you create simple or complex notes from scratch, organize them into searchable, browsable notebooks, and sync them among a variety of platforms, including Windows PCs, Macs, iPads and iPhones, Android devices and the web.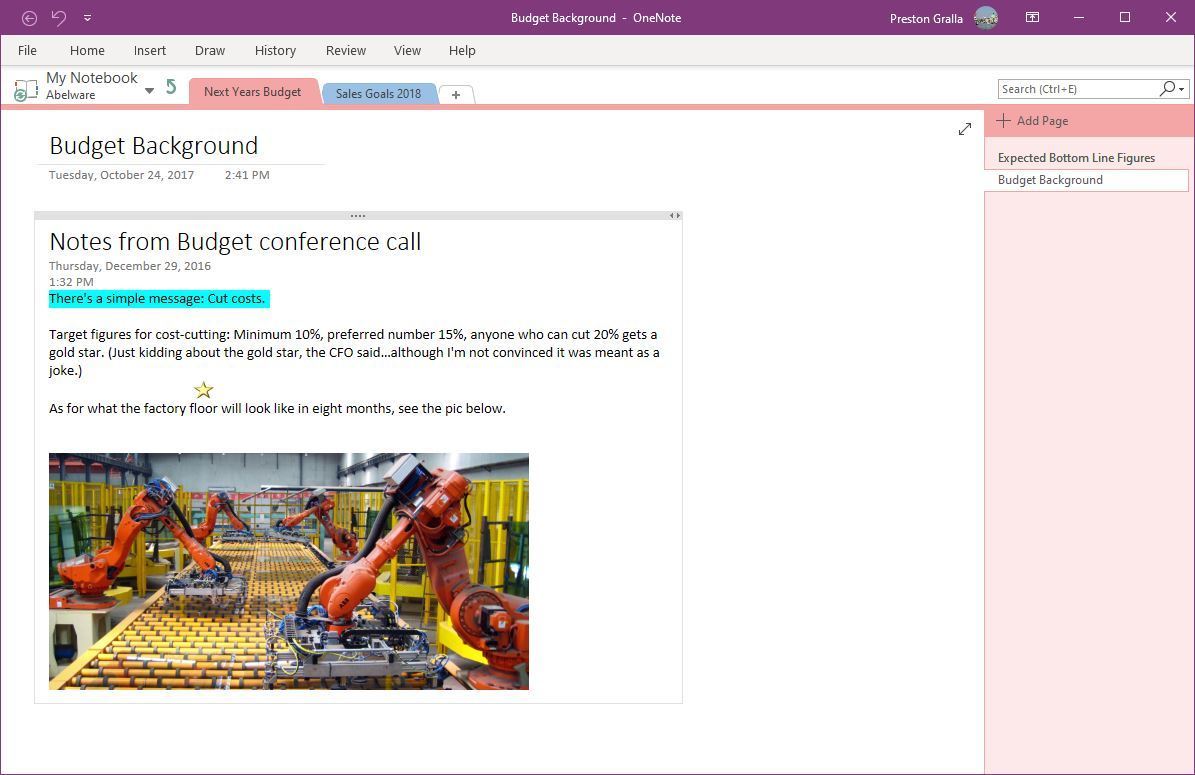 It bristles with note-creation tools for drawing, recording audio and video, scanning images, embedding spreadsheets and reviewing the edits of others (although the abilities of those tools differ somewhat depending on the platform). In fact, its note-creation tools are more comprehensive than Evernote's.
https://www.computerworld.com/article/2488890/desktop-apps-onenote-vs-evernote-a-personal-take-on-two-great-note-taking-apps.html