Adobe Photoshop and Lightroom might seem like the obvious choice, but there are lots of compelling alternatives!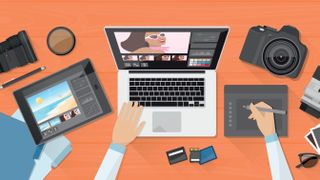 (Image credit: elenabs/Getty Images)
Photoshop is the world's best-known but always the best photo editing software – as Adobe's subscription-based software plans are not popular with everyone. Fortunately there are lots of non-Adobe alternatives which take a different and often more innovative approach to photo editing.
Adobe's Photography Plans are probably still the best choice for enthusiasts and pros who want or need to use the same tools as everyone else, but there's an increasing number of alternatives which can work alongside the Adobe mainstays and even replace them.
Also read:
• The best photo-editing laptops
• The best free photo editing software
So here's the thing about Photoshop. Despite its mighty reputation, it is just a photo editor. That's all it does. If you need to open a raw file it has to go through Adobe Camera Raw first, and while that is included in the deal, it's a tiresome extra process that many other programs don't require. If you need to organise your photos (who doesn't?) you need a separate program like Lightroom (included in the same Adobe Creative Cloud Photography Plan). If you need fancy black and white effects, retro/analog effects, HDR or one of dozen other specialised 'looks', you're better off using a custom-made plug-in rather than wrestling for hours with Photoshop.
Remember that Photoshop is also for artists, designers, videographers and illustrators too. There's a lot in Photoshop you won't need, and there's only a finite amount of space inside Photoshop for photography-specific tools.
So Photoshop is great at what it does, but what it does is starting to look pretty limited. Which is why the other programs on our list all deserve a long, hard look. Many are cheaper, many are simpler, many are smarter.
Lightroom is so powerful you may not need Photoshop at all, Affinity Photo does everything that Photoshop does at a fraction of the price, Capture One Pro is like Lightroom for pros and DxO PhotoLab can make ordinary cameras and lenses look better than you could ever have imagined.
If you're looking for cheaper all-in-one photo editors, get Adobe Photoshop Elements if you must, but first take a look at ON1 Photo RAW 2020, Exposure X5 and Skylum Luminar. Adobe might still be the big name in photo editing, but don't decide anything until you see what its rivals can do!
We kick off our list with Photoshop and Lightroom as you get both with the standard Adobe Photography Plan subscription and it is a good deal, whatever you think of the subscription model.
https://www.digitalcameraworld.com/buying-guides/the-best-photo-editing-software